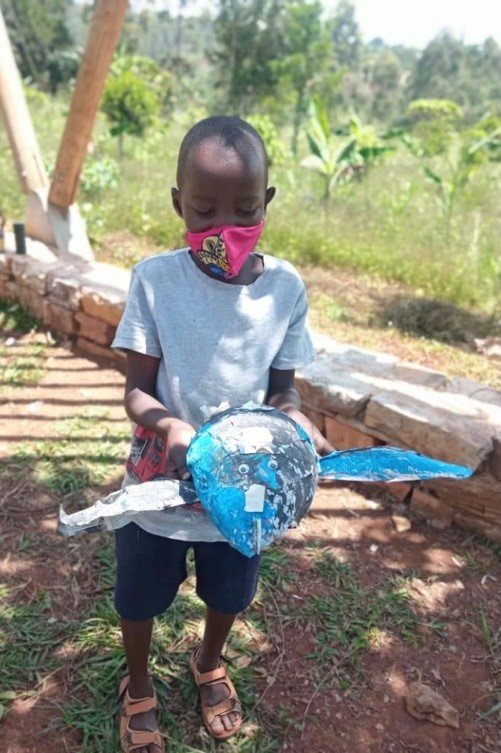 Although schools are not currently allowed to open in Uganda, we are providing the community with access to learning. We provide 120 learning packs targeting numeracy and literacy to children who range from 4-12 years old. Teachers have particularly noticed progress with the children's writing skills and they have also begun to build a relationship with the children when they come and collect and deliver their packs. However, we know children learn best when they are collaborating, experimenting, exploring, making and celebrating mistakes, and receiving instant feedback and guidance from the teacher, so we have also been facilitating small learning groups focusing on learning and wellbeing.
The Pandemic has been very hard for children, not only academically, but also socially, emotionally and physically. Our learning pods focus on the fulfillment of their academic and pastoral needs through creative and fun activities inspired by nature.
The safety and wellbeing of our children is essential, and we go above and beyond to follow the standard operating procedures laid down by the Government.
Please have a look through our photos and some examples of activities; we are delighted to be able to share with you what we have been doing.
October 4th:
Another lovely week has been had here at Mustardseed. We have been learning about the importance of Unity and how important it is for us to work together. Students participated in different games encouraging collaboration and communication. They have also have learnt about different birds and made them out of papier-mâché and recycled materials.
Uganda's Independence Day is this Saturday, so this week we are celebrating by taking part in 'Uganda Week'. Ambrosoli have been celebrating this week for many years with cultural activities, and we are so excited that we can be joining in this year 🙂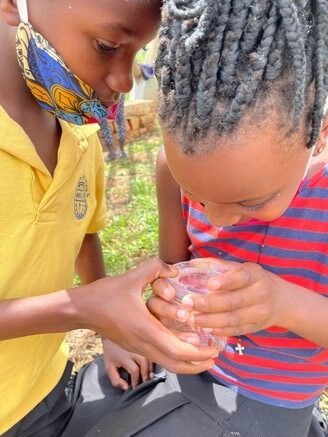 September 22nd:
Today, we were ecologists and we practiced the skill of observation. Each group of students looked at insects through a magnifying glass to identify the different parts of the body. We discussed the importance of respecting all living things, and we treated our insects with care.
We then created insects out of leaves and the Kingfisher group even labeled theirs, like real scientists! There were numeracy and literacy links also, from knowing an ant has 6 legs and begins with 'a' to naming the 3 parts of an insect's body.
September 21st:
Today, we started our 'Let's Get Active' programmes. These are for the children who will be starting with us when schools open again. We have 3 groups at present and there are 10 children in each: Kindergarten – Weaver Birds P1 – Silverbirds P2 – Kingfishers
This morning, our 3 groups gathered in different locations. We discussed the importance of keeping ourselves and others safe, explaining why we take their temperature at registration, and the importance of washing our hands and wearing our masks properly (over 6 years old). Each group then marched down to their learning space, singing their class song! Each teacher had made up a call and response song about the bird their class was named after. For example 'I am a weaver bird, I love to fly, I make beautiful nests, in the trees up high!'
The groups found shade from the sun under the trees on the Waynflete field and under the pergola. Each group discussed the importance of Mustardseed three main rules:
Be respectful and Kind
Always keep ourselves and others safe
Always tell the truth
They made actions to each and we will always refer to them at the beginning of all our sessions.
Each week we have a theme; we take our 11 acrostic values from the word MUSTARDSEED. Today, we thought about what Morality means, and how we should make the right choices for ourselves and others so we are responsible people. We discussed different scenarios and decided which was the best choice to make and why. The older students acted out some of these scenarios.
In our groups, we then took time to get to know each other. We shared our names and what we loved…chocolate being the most common!! We then decorated the first initial of our name with leaves, flowers and glitter, and attached some string so we could hang it in our room at home.
At lunch time, the children walked back to their homes- all with smiles on their faces looking forward to tomorrow!